The life-cycle of a female actor's career is quite different than the men's.
Last time we took a look at the five (+1) actors we were most looking forward to seeing on at the movies in the next decade. Now it's time for the ladies. It was actually quite hard to come up with an actresses' list.
The life-cycle of a female actor's career is quite different than the men's. They generally burst onto the scene in their late teens or early twenties, sometimes moving up from TV (like Megan Fox) or graduating from a long career as child actors (like Scarlett Johansson), and then have a five to eight year reign in light comedies, action flicks, and horror movies where their bodies are more valued than their acting. They go up and down 'Sexiest' & 'Hottest' lists, and if they're very lucky, by the time they're thirty they've moved onto 'serious' roles. The gowns get longer, the lurid ass-shots get shorter (strangely, the nude scenes usually increase) and the awards and nominations start to pile up.
And then there are the dreaded 40s. By this time if family life or dwindling job opportunities hasn't claimed them, they may go on to long and fulfilling careers well into old age, but this is sadly the fate of few. So in putting together this list, I've had to think long and hard about who I think is in it for the long run. There's every chance that I'm hopelessly wrong, but let's say that if these ladies aren't in a lot of movies by the end of the 2010s, I will be very disappointed.
1. Alexa Davalos
Among the many unexpected charms of the Vin-Diesel-as-Space-Conan romp The Chronicles of Riddick, was the arrival of young Alexa Davalos as a woman hardened on the fiery prison planet of I-don't-remember-but-it-was-cool, and not only was it her first feature film role but also where she first caught my eye. Not bad considering the film was already chock-full of memorably hammy turns by Diesel himself, Thandie Newton, Colm Feore and even Judi Dench!
That Davalos is beautiful in a classic Old World Movie Star way is beyond a doubt, but it may come as a surprise that she can act like one too. She's been absent from most of the kitschy Lad's Mag lists, and while we love 'em and their photoshopped charms, this is a good thing. Meanwhile the twenty-seven year old has been steadily racking up a small but interesting set of performances on the big and small screens. She's done the requisite horror film, but even then it was Frank Darabont's well-received version of The Mist. She's done the action film, only it was opposite Daniel Craig in Edward Zwick's Defiance. Hardly the standard young actress roles.
In 2010 she will be playing Andromeda — a girl so pretty they named a whole galaxy after her (and you can see why) — in Lous Leterrier's remake of Clash of the Titans, and that will hopefully catapult Alexa Davalos into the minds of many more people.
2. Minissha Lamba
If there's a pattern to this list, it must be young actresses who can and do play roles well beyond their years, in terms of maturity. So, Minissha Lamba must make this list. While Bollywood heroines are getting leggier, ditzier and more frothy as the former A-List of Rani Mukherji, Preity Zinta et al move into their thirties and 'serious', 'meaningful' cinema, it's nice to know that there's at least someone still in their twenties in Mumbai who can give us more than thirty-two perfect teeth and a gyrating hip.
Not that Ms. Lamba is incapable of such things, mind you. Anyone who watched the howl-inducing Kidnap last year is bound to have noticed that the girl can dance (this is one of many reasons that train-wreck of a film is always going to be a guilty pleasure). When she's not playing damsels-in-distress, Lamba has done love-struck schoolgirls and lovelorn mothers (in the same film, Bachna Ae Haseeno), corporate underlings, and even — my favourite! — a caped superhero (but I won't spoil it by revealing in which movie).
Next up for her is Shyam Benegal's Well Done Abba, with the ever-delightful Boman Irani. Her career may be shifting more towards the arthouse side — and given the recent state of Bollywood, that's not a bad thing at all — but secretly a part of me wishes Minissha Lamba would do another Kidnap every now and then. Just because, you know.
3. Anna Kendrick
If you've been following the site (or even just me) on twitter then by now I must have mentioned my unbridled love for Rocket Science at least one or two dozen times over the past year. A large part of that love is down to its terrific lead performances. Reece Thompson already made the five actors' list, so it's only natural that his co-star in that film makes it to this one.
Kendrick is, from the get-go, a wildly entertaining and engaging performer. I have yet to see those sparkly vampire movies, so I don't know how Twilight fans will react to that statement (she plays Jessica Stanley in the films, and how big or impactful a part it is I don't know), but trust me, she is.
And lucky for us I was not the only person who saw and loved Rocket Science! Juno and Thank You For Smoking director Jason Reitman specifically wrote a character in his new film Up in the Air with Kendrick in mind. The film has been getting rave reviews since it opened (but not yet in my neck of the woods, argh!). I've seen it at number one on several Best of the Year lists already, and Anna Kendrick herself is starting to round up award nominations. It couldn't happen to a nicer actress.
(Oh, and have I mentioned that she's also going to be in Edgar Wright's Scott Pilgrim movie? Can't wait!)
4. Isha Sharvani
Into the long list of 'movies that everyone else loves that I think are bad' earlier in the year was added Zoya Akhtar's Luck By Chance. At the very same time, added into the list of 'actors I never thought would be good but turned out to be great' was added the name of Isha Sharvani.
Ms. Sharvani comes from the kind of strange brew of mixed-nationailty parents, lakeside dance ashram upbringing and kalaripayattu(!) that usually doesn't result in Bollywood starlets, and indeed, she is known for her breathtaking dance routines more than her acting (she also has the most straightforward and unpretentious website of any celeb I've ever seen).
Isha Sharvani's previous efforts, including Kisna & the er, interesting sounding Good Boy, Bad Boy didn't exactly fill me with a burning desire to watch them, but in Luck By Chance she proved that she's more than a pretty face. In a film loaded with the who's who of Bollywood, Sharvani's turn as a ditzy star-child was pitch-perfect, and seemed effortless. Like Ranbir Kapoor, she's also a marvellous physical perfomer, in both the song-and-dance bits and her overall body language. It should come as no surprise that such a talented dancer is good at it but still — this girl can move.
Alas, there seem to be no future big screen projects in the offing for Isha Sharvani, or at least none have been announced. One would think that after Luck By Chance producers would be falling over themselves to offer her roles (I would) — and this may be the case — but since she has a very fruitful offscreen career to look after as well, it may be some time before we see her on the big screen again.
5. Adrianne Palicki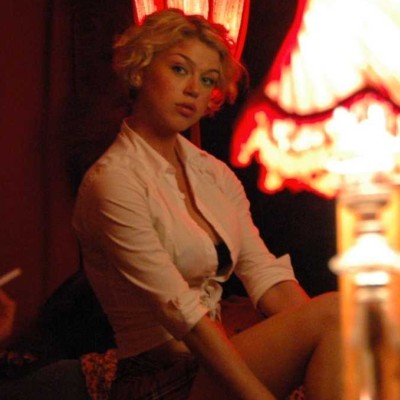 Of the several dozen things that make TV's Friday Night Lights awesome, the sassy, tough, bimbo-with-a-brain Tyra Colette played by Adrianne Palicki surely springs to mind near-immediately. In three seasons her character has gone from being the regular hot blonde eye candy to a wonderfuly deep, vulnerable character, and while the show is always excellently written and directed, you can chalk a large part of Tyra up to Palicki's performance.
But unlike other shows where people stay in high school forever, FNL exists in a realistic world, and so it means that Tyra's character had to grow up and move on out of Dillon, Texas, and therefore out of the show as a main character.
Which hopefully means good things for the movies, with the actress having more time to devote to projects. With fellow TV thesps Connie Britton, Carla Gugino & Emmanuelle Chriqui (all of whom could have made this list on their own merit, mind you) she will soon be seen in Sebastian Gutierrez's indie comedy Women in Trouble, continuing in the sexy, sassy tradition of Tyra Colette, it would seem. Hey, that's hardly a bad thing.
That Adrianne Palicki is tall, sexy and can act is beyond a doubt by now. That there are many, many fans of her and Friday Night Lights in the filmmaking community is also beyond a doubt. Now we just need to hope that the two find each other quite often.
+1. Tina Fey
Always, always, always bet on the Smart Girl. And twice so if she's funny. When Tina Fey presented an Oscar earlier this year the very mention of her own name from her lips made the audience burst into spontaneous applause. You would too in the presence of the star of 30 Rock, of late known as much for her impersonation of Sarah Palin on her former sketch show (Saturday Night Live) as the sublime comedy she delivers in every episode of her own sitcom. Smart, pretty, funny female actors come along every once in a few decades — if we're lucky — and to be living in the time of Tina Fey is a special thing indeed.
When she's not delivering a pitch-perfect rendition of the life of a nerd all grown up, Elizabeth Stamatina "Tina" Fey is making forays into feature films. For now they are comedies like Baby Mama and the upcoming Date Night with Steve Carell, but like most comedians and comediennes before her, I think Fey has the chance of being good at the other things too. Running away from monsters and then killing them with big guns, for instance.
Or drama.
And even if Tina Fey the actress decides to hang up her boots, Tina Fey the writer and producer is sure to continue to entertain us. Why, even mentioning her name is sometimes enough.
More end of the year and end of the decade lists are in the offing, but until then it's a wrap. Do check back on the site for those as we tick off the last of the year's releases to get a better bead on things. Oh, and you did see the five+1 Actor's list that goes with this one, right?