Never let it be said that Hollywood shies away from gimmicks. For not one but three films this year — 2009 — have nine as a significant (or only) part of their title. The vagaries of international distribution mean that though two of the films have been released in the US (and been received warmly) many readers of this site — including this writer — have yet to get a chance to see them.
And frankly, I can't wait.
9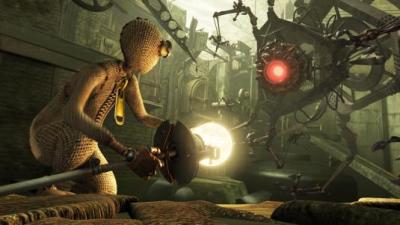 The first and most simply titled of this trio is Shane Acker's 9, an animated film based on his own 2005 short of the same name (which was nominated for an Academy Award). It comes to the screen under the patronage and considerable cinematic weight of producers Tim Burton & Timur Bekmambetov. It's a good chance that fans of either of those directors work — Burton's especially — should warm to this post-apocalyptic tale of 'stitchpunk' ragdolls and their adventures. Each character gets a numeral for a name, but they're voiced by such stars as Elijah Wood & Christopher Plummer (the characters in the short film were silent).
9 promises to be a crisp animated film unlike the usual fare we see from the states; it's definitely not for young kids, what with some violence and scary images. At last, a cartoon you can leave the kids behind and go see!
District-9
Neill Blomkamp's feature directorial debut has quite a few things in common with 9 beyond just the numeral. Both a based on short films, and both are science fiction in the most earnest sense of the word. They're both also backed by heavyweight producers (in this case Peter Jackson & Phillipa Boyens of The Lord of the Rings fame). Featuring a cast of unknowns and shot for an astonishingly low budget of $30 million (when the average Sci-fi movie clocks in at over 150), D-9 is an alien invasion tale with a massive twist: we're not exactly the good guys.
It echoes earlier alien refugee tales like Alien Nation but Blomkamp's innovative documentary-style approach to the film has been garnering raves. It may not be the greatest film ever made, but for SF fans who've had to see the genre reduced to giant explosions and thin plots, it promises to be a treat.
Nine
And now, as they say, for something completely different. The formidable cast alone will pique the interest of any movie fan. Add to that the intriguing story — a musical adapted from a classic Fellini film! — and the enticing prospect of Daniel Day-Lewis singing is more than enough reason to mark the end of November on your calendars, for that's when Rob Marshall's Nine releases in cinemas.
Like the Fellini film it's based on (8½), Nine is the story of a film director and the various women in his life — his wife, his mother, his muse and more — as he struggles to complete his latest film. 8½ frequently makes Top 50 or even Top 10 of all time lists of cinephiles, and it remains to be seen whether or not this musical re-imagining can pull off a similar feat.
The trailers have been intriguing. It looks amazing, and even if it's a train-wreck, at least it seems like it's going to be a spectacular one.